Compensation
Yesterday I went into the bush to a waterfall that is not often visited in the area. I had hoped that the previous day's rain would increase the flow and make for nice long exposure. It was not to be however, and the result was my falling on a wet rock and breaking the fall with my face which gave me a black eye.
Having gathered my senses, I began my exit and on the way was struck by the lovely shades of green in the moss and the trees. Soon Fall will change the trees' foliage to red and gold, but for now they still believe it is summer.
Misty morning
A very misty morning helped me in taking this shot on Hamilton's mountain brow.
What could be more fitting . . .
What could be more fitting than a red Maple leaf as a symbol of a Canadian Fall. I took this at a wooden bridge on the way up to Dundas Peak.
Cool morning on the Bayfront
One of my favourite spots along the Bayfront trail loses none of its attraction when you brave it on a winter morning. This year (2016) winter mornings have been in short supply, but today was on the cool side with a clear sky--ideal conditions for a long exposure shot with the Big Stopper.
Tiffany Creek
Winter has been almost non-existent this year. February has given us a taste of what we missed, though. I went out to Tiffany Falls this morning and took a slow exposure of Tiffany Creek. It was unusual to see so much water while snow was on the ground.
Tiffany Falls
I seem to have trouble getting Tiffany Falls exactly as I want it. On this occasion it would have meant going across the partially frozen Tiffany Creek, something I was not about to do. Hence, this will have to do.
Man in the mist
Taken on another location on Hamilton Mountain, I saw this bloke disappearing into the mist on the first day of March break this year. I liked the eerie feel to the atmosphere.
Waves
I really enjoy going to the pier when a strong wind is whipping up the waves. This one came perilously close to soaking me, but not quite.
Silence in the woods
I shot this on my Rolleiflex TLR in the Sherman Falls area on one of this past winter's few snowy days. I developed it in Blazinal 1+9 for 12 minutes.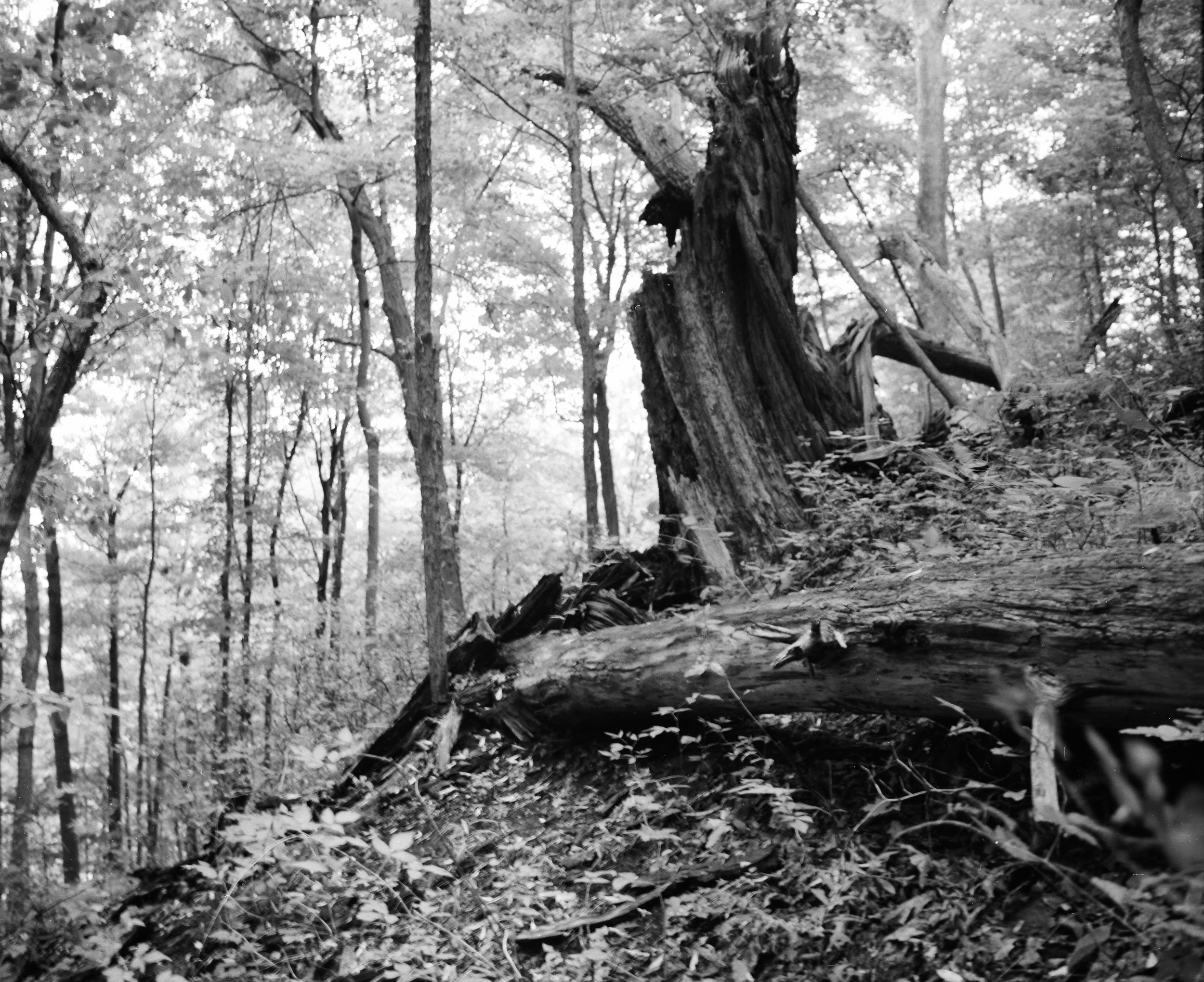 Decay
On a day that I initially thought would be unproductive, I came across this decaying trunk and shot it using the Zone system with my Mamiya 675 Medium Format camera. I self-developed the TMAX film in Blazinal for 12 minutes.
Hiding
Have you ever noticed how rabbits, when they are caught in the act so to speak, will often try to hide in plain sight? This is what this guy did the other evening, and in so doing posed beautifully for me.
Cow Elk
Turning around to correct a wrong turn, I saw this lovely cow elk just outside Canmore Alberta.
Minimalism
Taken on the Bayfront trail in Hamilton, Ontario
Cormorants-Minimalism
Cootes Paradise, Hamilton
Cormorants
Another minimalist shot in Cootes Pardise.
Fall
Colour by a bridge in Dundas Valley
Fall
Rustic Fence in Dundas Valley
U.S. Steel
U.S. Steel in the murk at dawn--a metaphor for its future maybe.
Fall Colour
Lovely colours near Canterbury Falls.
Fall Colour
Along the Bruce Trail in the Fall.
Bruce Trail
A stand of trees along the Bruce Trail. I liked the trunks' textures.
Canterbury Falls
Canterbury Falls shot on the Mamiya RB67
In the Woods
I shot this on my Rolleiflex TLR in the Sherman Falls area on one of this past winter's few snowy days. I developed it in Blazinal 1+9 for 12 minutes.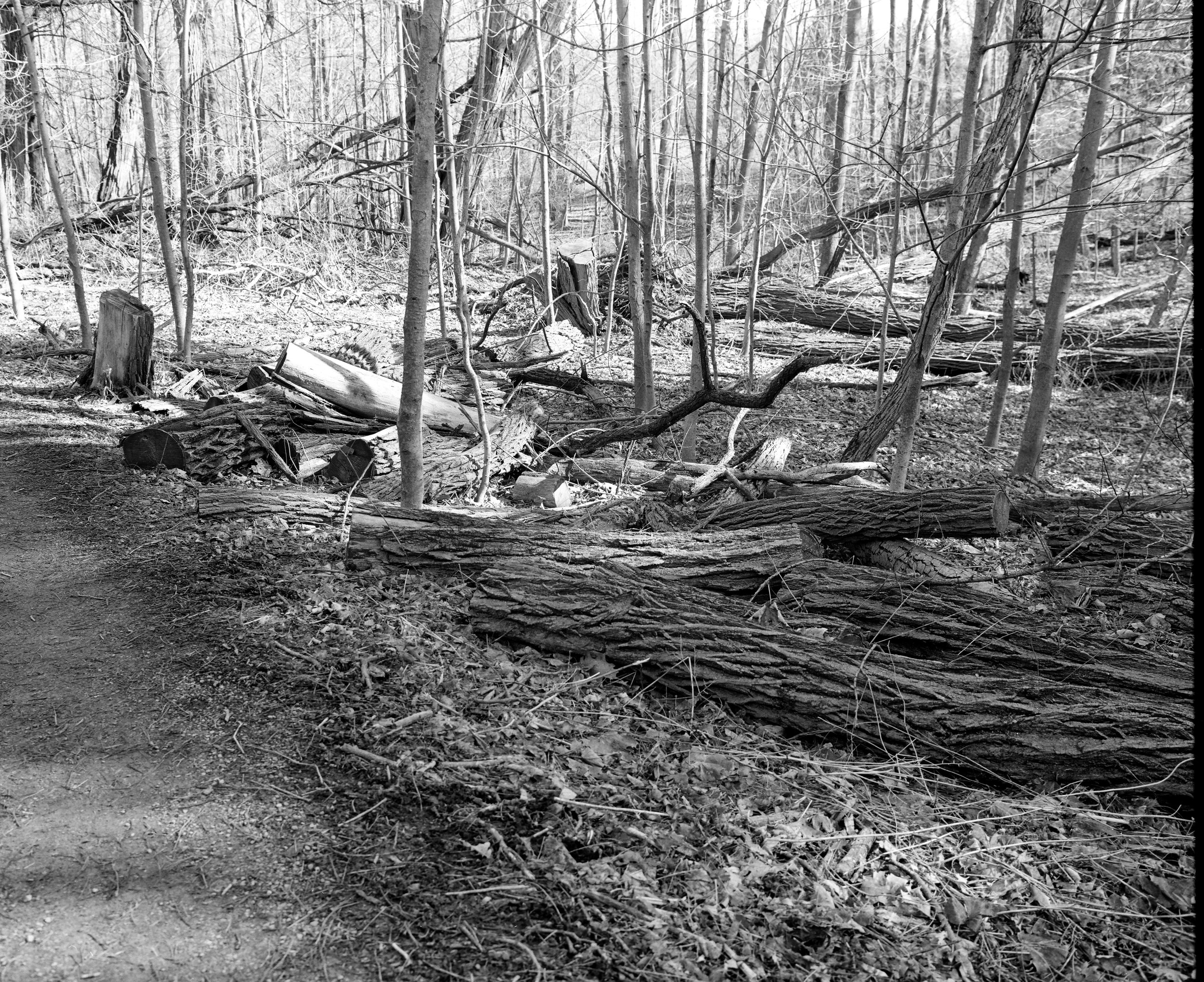 Chopped and Dropped
I noticed that the woodcutters had been busy along the Bruce trail, and so I put the Mamiya RB67 to use. I placed the dark face of the log, just forward of the stump on the left, at zone three. I exposed at 1/8 sec at F11 and developed in Blazinal for16.5 seconds.
Gnarly
Gnarly old tree on the Bruce Trail. Again, shot with the Mamiya and self-developed in Blazinal.
Three Sisters, Canmore
The mountains that define Canmore, Alberta. Taken with the Mamiya RB67, and developed in Blazinal for eight and a half minutes at 24 degrees celsius
Fifty Point Groynes
This spot on Lake Ontario is a favourite of local photographers. I have taken various images with various cameras. This was with a Canon 7D using a Lee Big Stopper.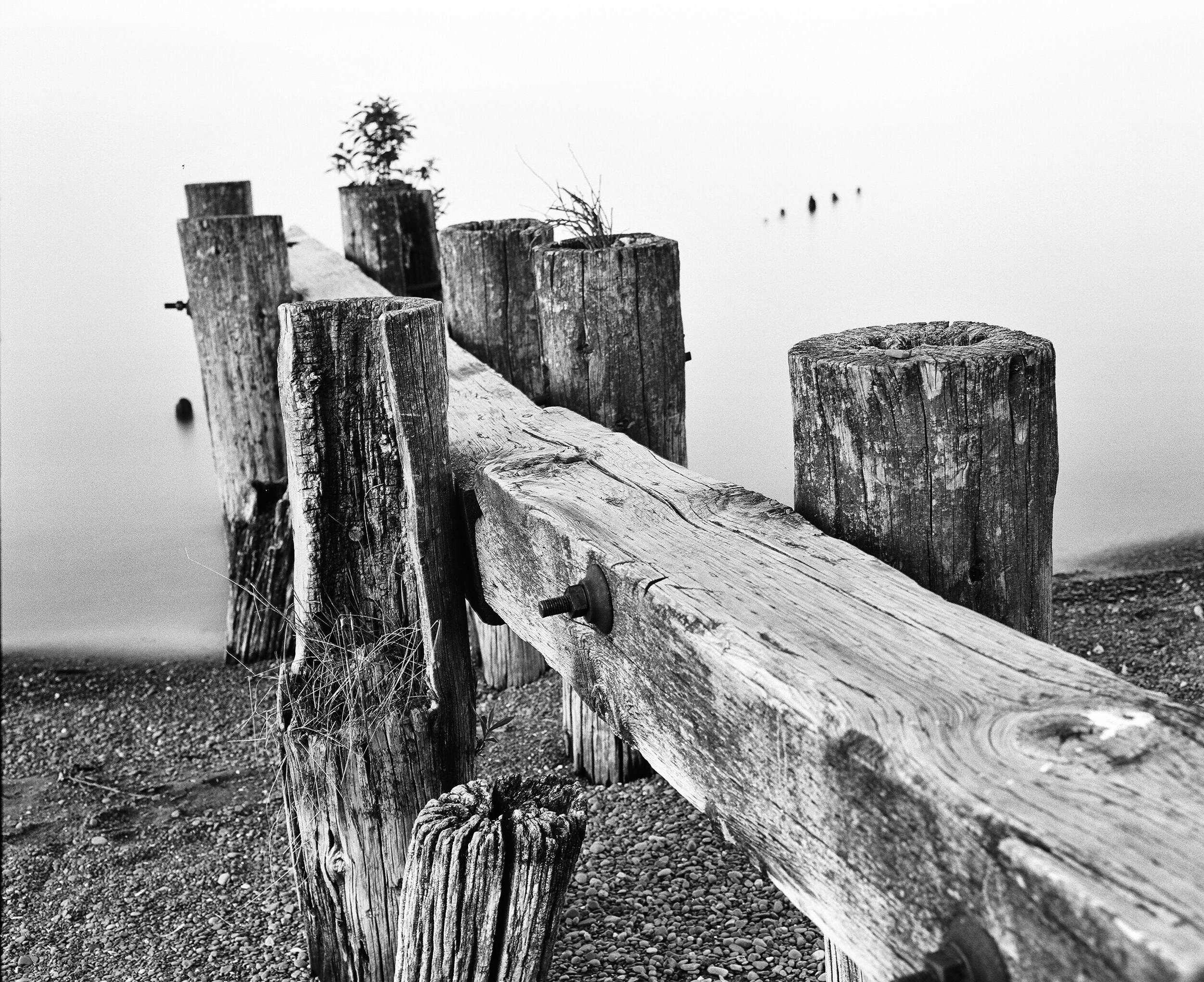 Fifty Point Groynes Medium Format
I wanted a different perspective when I captured this image on the Mamiya RB67. I was also experimenting a little since I had not used the Lee Big Stopper with black and white film before.
Tiffany Falls
Tiffany Falls is quite impressive when there has been a good rain and even more impressive in winter. It is a popular spot with ice climbers in January and February each year. Up stream of Tiffany Falls lies Washboard Falls. Getting there requires a climb up the side of Tiffany Falls (not recommended if you have vertigo, a fear of heights or if you "switch off" easily. The climb demands your full concentration). I took this shot with the Mamiya RB67.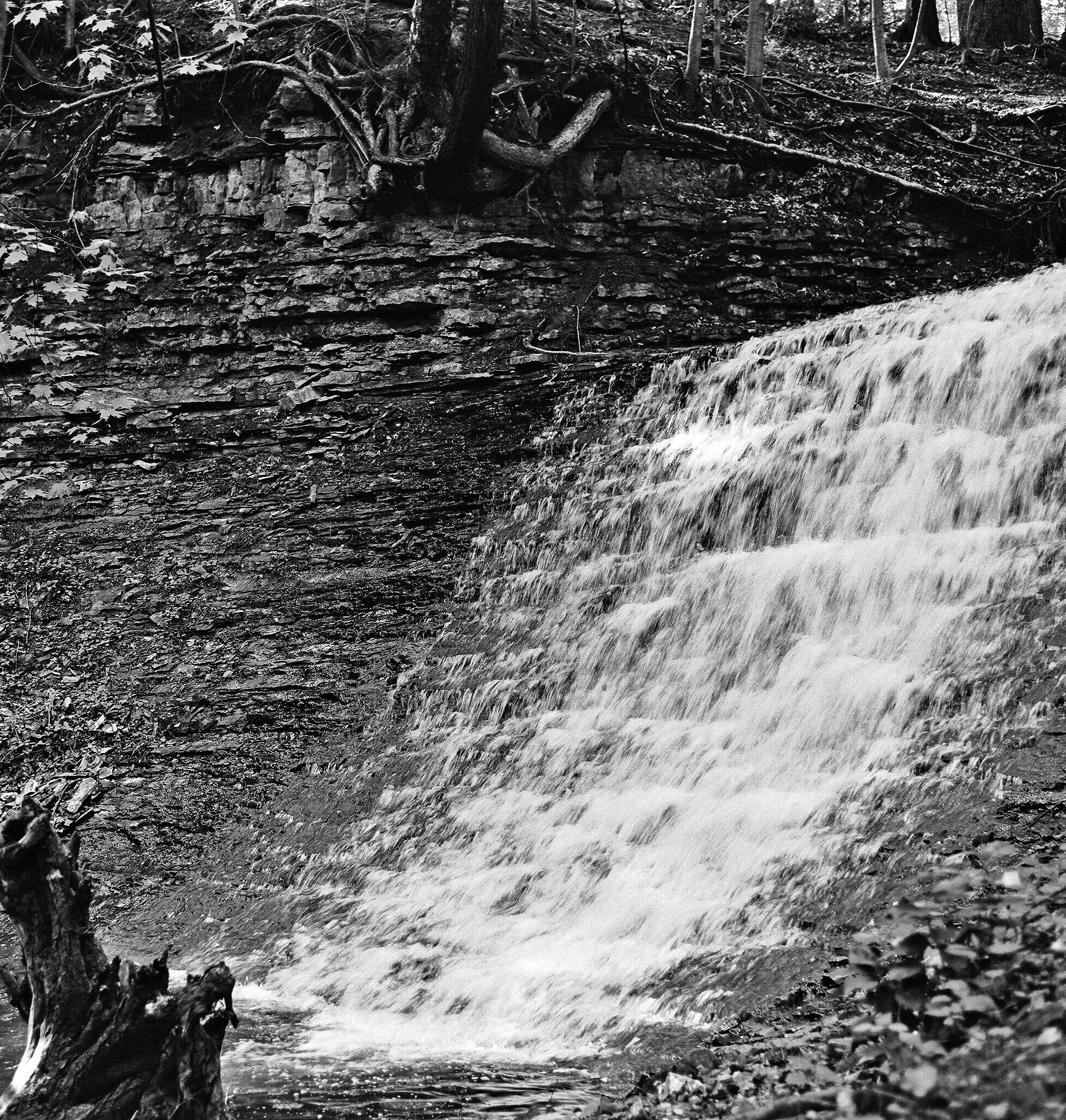 Washboard Falls
It is easy to see how this falls gets its name. Getting to it requires a climb up tyne side of Tiffany Falls. Caution is required for that as I mention on the Tiffany Falls image.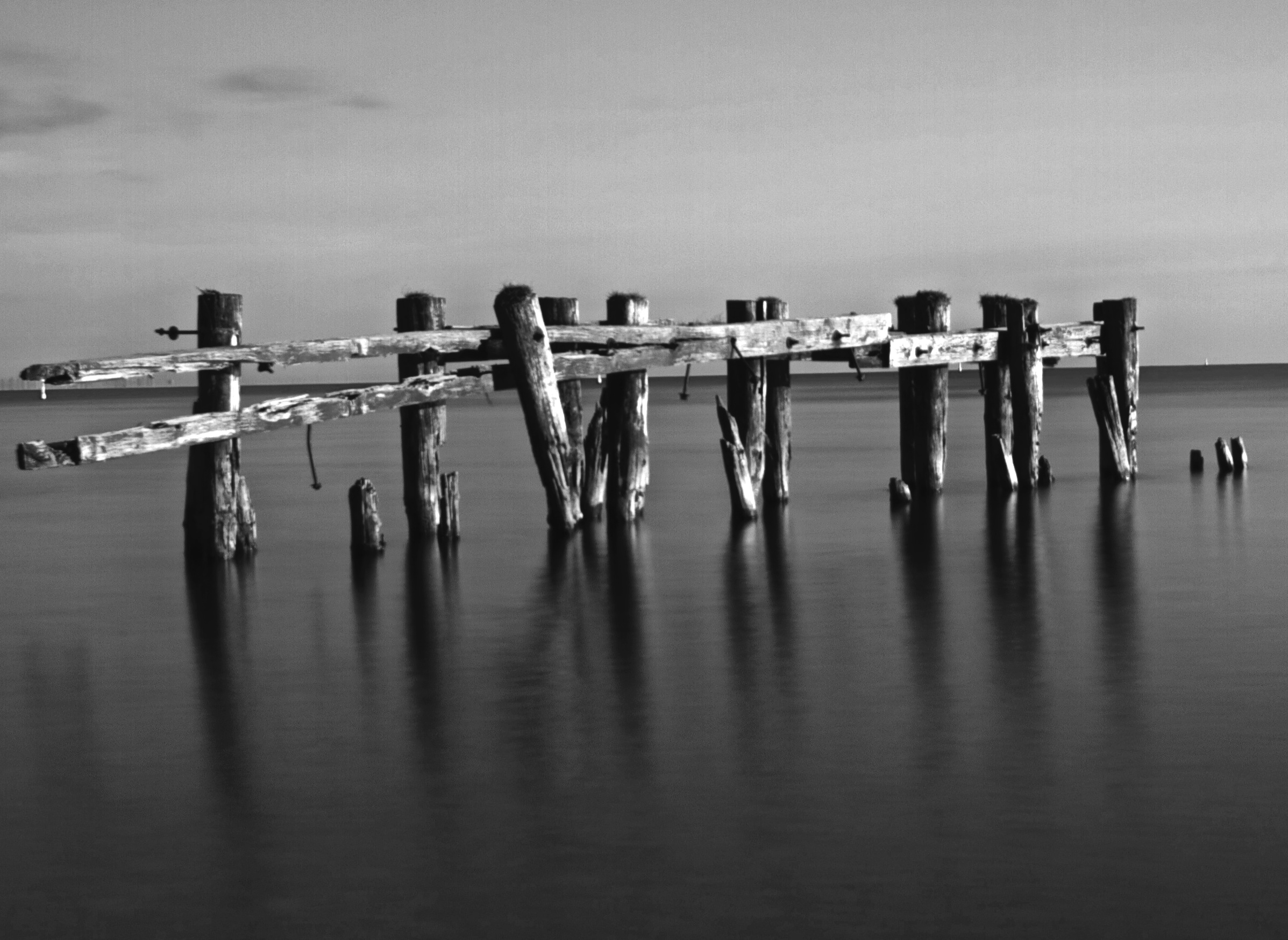 Another one of my favourite spots
The groynes at Fifty Point provide endless opportunities for photographs.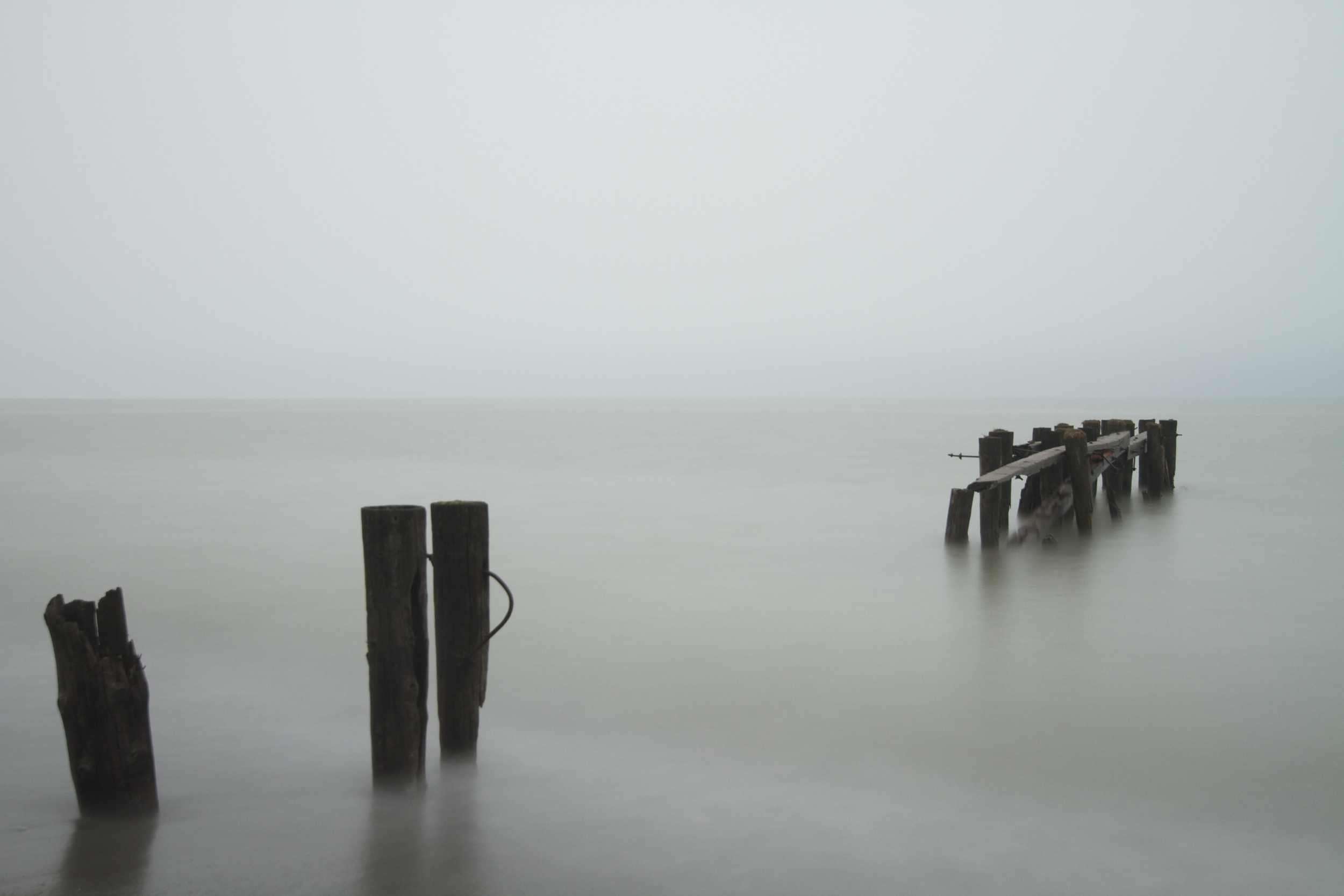 Fifty Point Groyne
I went back to Fifty Point this morning, and noticed that this structure is gradually disintegrating. If you look carefully, you can see that a central member in the large structure is breaking up with the wave motion. I took a long exposure and so the movement is blurred which I like.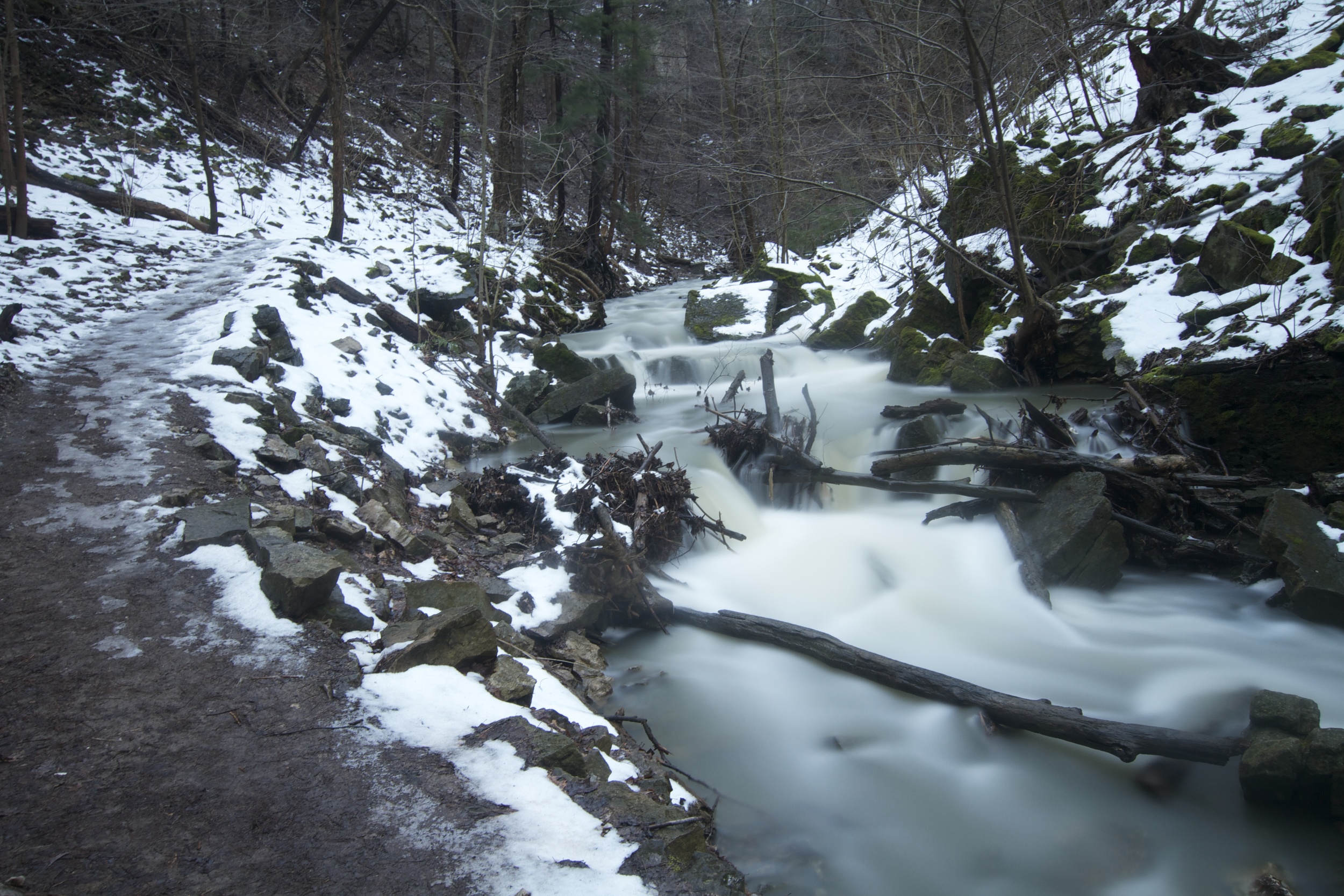 Tiffany Creek
Once again Tiffany Falls was throwing up too much spray to allow for a shot. I took a long exposure of the creek though and was quite satisfied with the result.
Fifty Pont Groynes
I went a little "arty" on this one.
Sunset at Southampton, Ontario
Downstream from Tiffany Falls
Shot on the Rolleiflex TLR using Acros100 developed in hc110
Downstream from Tiffany Falls
Downstream from Tiffany Falls